News-Blog
Subscribe to posts
Figure 1.
a) Satellite-SST distribution during July showing the spatial extend of the equatorial Atlantic Cold tongue (ACT) region. Contours represent 23, 24 and 25°C isotherms. b) Seasonal evolution of the SSS (blue lines) and the SST (red lines) for the satellite observations and the model in the ACT (box marked in a). The seasonal cycle of the SSS and the SST is computed from the 2010-2012 period. Units are for a) °C and b) SSS (PSS) and SST (°C)
A paper by 
Da-Allada et al. (2016)
 explains the lag between maximum sea surface salinity (SSS) and minimum sea surface temperature (SST) in the equatorial Atlantic Ocean.  This relation has been observed but has remained unexplained. Using satellite observations of SSS, the papers shows how upwelling dynamics influence this relation throughout the year.
See more at 
http://agupubs.onlinelibrary.wiley.com/hub/article/10.1002/2016JC012342/editor-highlight/
Da-Allada, C. Y., Jouanno, J., Gaillard, F., Kolodziejczyk, N., Maes, C., Reul, N. and Bourlès, B. (2016), Importance of the Equatorial Undercurrent on the Sea Surface Salinity in the Eastern Equatorial Atlantic in boreal spring. J. Geophys. Res. Oceans. Accepted Author Manuscript. doi:10.1002/2016JC012342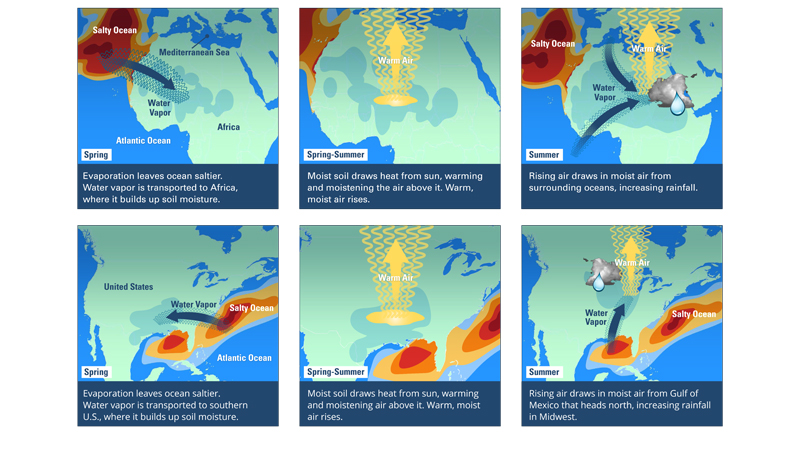 Top: Winds evaporate water from the subtropical North Atlantic Ocean, leaving behind high levels of salinity during the spring. The exported moisture makes its way to the African Sahel, where it soaks the arid land and gradually builds up soil moisture over the course of three months. The soil moisture couples with convection in the atmosphere to create a feedback loop that draws in additional moisture from the North Atlantic and Mediterranean. This increases precipitation during the summer African monsoon season. Bottom: In the western North Atlantic, higher springtime salinities are an indicator of enhanced moisture export onto the continental U.S., which converges in the South. This greatly increases soil moisture there, allowing the Sun's energy to evaporate water leading to more atmospheric convection on land. The intensified convection on land draws in more moisture from the Gulf of Mexico and leads to the enhancement of the Great Plains Low Level Jet, which carries moisture to the upper Midwest in summer. (Illustration by Eric Taylor, Woods Hole Oceanographic Institution) - 
Ray Schmitt from WHOI and his colleagues first found evidence of a clear link between higher sea surface salinity levels in the North Atlantic Ocean and increased rainfall on land in the African Sahel—the area between the Sahara Desert and the savannah across Central Africa. The results were published in the May 6, 2016 issue of Science Advances. 
Schmitt and his colleagues also found that high springtime salinity in the western North Atlantic correlates with high summer rainfall in the U.S. Midwest. Those results were published in the May 1, 2016 issue of the Journal of Climate.
- See more at: http://www.whoi.edu/news-release/salty-oceans-rainfall#sthash.UThOHm7P.dpuf
Please find below the link to the announcement for the 
Global Ocean Salinity and the Water Cycle Workshop
which will take place at Woods Hole Oceanographic Institution, Woods Hole, Mass., USA on May 22-26, 2017. 
The deadline for submission of abstracts is 24 April 2017.
http://web.whoi.edu/salinity-workshop/
Dear Colleagues,
We call to your attention the upcoming session at the AGU Fall Meeting 2016 - "Ocean salinity, water cycle variability and science results from satellite measurements", Dec 12-16, 2016, San Francisco, California USA. The deadline for abstract submissions is Wednesday August 3, 2016.
We invite abstract submissions to the session, and please feel free to redistribute this announcement.
https://agu.confex.com/agu/fm16/preliminaryview.cgi/Session14142
Session title:
Ocean salinity, water cycle variability and science results from satellite measurements (Session ID#: OS021/14142)
Session Description:
This session highlights research investigating ocean salinity, an Essential Climate Variable (ECV), as a key parameter that links various elements of the water cycle to ocean circulation dynamics and climate. Contribution s are invited on all aspects of ocean salinity investigations including analyses undertaken from in situ and satellite observations, numerical models, and data assimilation. We particularly welcome contributions that have utilised sea surface salinity (SSS) measurements from the recent pathfinder satellite missions (SMOS, Aquarius/SAC­D, and SMAP). The session will focus on: recent progress from salinity remote sensing; new process­based insights from observations collected during the SPURS field campaign; salinity­driven thermohaline circulation, upper­ocean stratification, and related ocean dynamics; links between salinity and global and regional climate variability, the water cycle as well as the fingerprint of long­term change; salinity assimilation into ocean models; and the scientific imperative for future salinity measurement continuity and enhancement.
Index Terms:
1616 Climate variability [GLOBAL CHANGE]
1655 Water cycles [GLOBAL CHANGE]
4215 Climate and interannual variability [OCEANOGRAPHY: GENERAL]
4255 Numerical modeling [OCEANOGRAPHY: GENERAL]
Cross-Listed:
A - Atmospheric Sciences
C - Cryosphere
GC - Global Environmental Change
Instructions and abstract submissions can be found at: 
http://fallmeeting.agu.org/2016/abstract-submissions/
Early Abstract Submission Deadline is 27 Jul
Final abstract
submission deadline  is 3 August
.
We hope to see you in San Francisco in December 2016!
Best regards,
Paul Durack, Tong Lee, Kyla Drushka and Nicolas Reul
Figure 1: Time series of the root-mean-square error of the modeled SSS field compared with the Argo data for the four experiments from 2011 to 2013. (a) Global average, (b) average within 20°S–20°N, (c) Northern Ocean average within 20°N–60°N, and (d) Southern Ocean average within 60°S–20°S. The unit is pss. From Lu et al., 2016
A study recently published in JGR ocean by Lu et al. (2016) attended to answer how can SMOS SSS data benefit ocean model performance? Previous studies found contradictory results. In this work, the authors assimilated SMOS-SSS data into the LASG/IAP Climate system Ocean Model (LICOM) using the Ensemble Optimum Interpolation (EnOI) assimilation scheme. To assess and quantify the contribution of SMOS-SSS data to model performance, several tests were conducted.
The key topic of their study is the examination of whether SMOS-SSS data can improve model simulations, i.e., whether the error in model simulations can be reduced after including SMOS-SSS data. To answer this question, four experiments were implemented within the period of January 2011 to December 2013.
1.       Non_assim: this was a model control run from January 2011 to December 2013 without assimilating any data. The experiment indicated the performance of the model for ocean state simulations.
2.      Assim_sss: in this experiment, we assimilated only the SMOS-SSS data (CEC) into the model. Compared with Non_assim, the experiment indicated whether the SMOS-SSS data could improve model simulations (especially for salinity).
3.      Assim_other: we assimilated the three different data sets: SST, SLA, and T/S profiles into the model. These data are introduced in section 2.2, including OISST, SLA, and ocean subsurface temperature and salinity profile data (in EN4). Most of the available data assimilation systems in previous studies included those three ocean data sets. Therefore, another important task was to investigate whether SMOS-SSS data can play a complementary role in the current data assimilation system when traditional observational data are assimilated.
4.      Assim_all: we assimilated all of the available data, including the SMOS-SSS, SST, SLA, and T/S profiles. Compared with Assim_other, this experiment indicated whether the inclusion of SMOS-SSS data can further improve the model simulation of a traditional data assimilation system.
 The results indicate that the CECOS/CATDS 2010.V02 SMOS-SSS product can significantly improve model simulations of sea surface/subsurface salinity fields. This study provides the basis for the future assimilation of SMOS-SSS data for short-range climate forecasting. 
 Lu, Z., L. Cheng, J. Zhu, and R. Lin (2016), The complementary role of SMOS sea surface salinity observations for estimating global ocean salinity state, J. Geophys. Res. Oceans, 121, doi:10.1002/2015JC011480.
A 
workshop
 held at the Center for Earth System Research and Sustainability (Universität Hamburg, Germany) reviewed recent progress on salinity and freshwater research and included discussions of problems that must be solved to improve our understanding of future changes in the water cycle. Summary and details can be found in the following meeting report to EOS:
Reference : W15- 15 - 056
Release date : 18/09/2015
Deadline for receipt of applications: 07 november 2015
Ifremer, through its research work and expert advice, contributes to knowledge of the oceans and their resources, to monitoring of marine and coastal environments and to the sustainable development of marine activities. To these ends, Ifremer conceives and operates tools for observation, experimentation and monitoring, and manage the oceanographic databases.

Created in 1984, Ifremer is a public institute of an industrial and commercial nature (EPIC). It is supervised jointly by the Ministry of Higher Education and Research and the Ministry of Ecology, Sustainable Development and Energy. Within Ifremer, the Laboratory of Oceanography from Space (LOS) is seeking to appoint a Researcher to reinforce is major role and expertise for the production, validation and scientific exploitation of the Sea Surface Salinity (SSS) data obtained from several satellite missions such as SMOS, Aquarius, potentially SMAP and AMSR-2. LOS develops closed partnerships with the French scientific community, also collaborating with international partner organisations (ESA, CNES, NASA, EUMETSAT,..) in the frame of several national and international projects, including contractual activities.
The LOS includes a research and data processing team to gain a better knowledge of the ocean from various observations. This group gathers technicians, engineers and researchers to conduct analyses, algorithm development, processing and distribution of elaborated geophysical products derived from the combination of in situ and satellite observations, such as surface winds, surface waves, currents, surface temperature and salinity, sea ice characteristics, …
The satellite missions to estimate sea surface Salinity are rather new with the first launch end 2009 for the ESA SMOS mission. These new datasets still demand a strong expertise in both passive microwave remote sensing and ocean surface physics. A thematic exploitation platform dedicated to ocean surface salinity is currently under development to aim at fostering the scientific use of both satellite and in situ SSS observations, complemented and used synergistically with observations from numerous other Earth observation instruments (temperature, altimetry, scatterometry, optical and ocean color properties, precipitation,..).
The successful researcher will contribute to improve our understanding of the dynamical processes responsible for the variability of the SSS fields associated with the global water cycle. Research themes are open to different aspects on specific physical processes (vertical mixing at small scale, meso-scale horizontal transport, air-sea interactions, Evaporation minus Precipitation or river run off fluxes, mixed layer and haline stratification, etc..) or/and focus on key geographic zones (oceanic basins, marginal seas, river run off, Tropical Cyclone area, polar regions..). The researcher will develop analyses based on existing in situ and satellite data but will also consider the potential combination with new and future missions observations (Sentinel-1 and 3, SMAP launched since january 2015, CFOSAT with a foresseen launch in December 2017, or  SWOT in 2020).


As principal activities, the researcher will have to:

• Undertake studies on the signatures of the global water cycle and its variability in ocean surface salinity,
• Exploit the complementarities between in situ and satellite observations characterizing the upper ocean salinity,

• Participate to the definition and exploitation of future and new observations (combined exploitation, SMOS follow on, GNSS-R, ...), and of new measurement protocols,

• Identify new fields of applications involving the combined use of observations characterizing the coupled atmosphere/ocean/land/ice system.
Knowledge, Skills & Qualifications:
·       The position requires a Ph.D. degree in oceanography or/and meteorology, fluid mechanics, geophysical fluid dynamics, air/sea interface, ocean remote sensing, geostatistics, or a closely related discipline.
·       Specific skills are required in :
ü  English,
ü  Applied mathematics,
ü  signal processing
ü  Oceanography
ü  Meteorology
The successful candidate is expected to demonstrate autonomy, collaborative team efforts and a strong interest in the scientific context and other related scientific topics studied in the Ifremer's Département Océanographie et Dynamique des Écosystèmes (ODE): LABEX Mer, Pôle thématique Océan and oceanic small-scale studies etc.)
Appropriate background checks are required.
The post available is a permanent researcher position, with a preferred starting date of December 2015/ January 2016. Closing date for applications: 7 november 2015
For further information, see:
http://wwz.ifremer.fr/institut_eng/Ifremer-careers/Jobs-and-Internships/Researcher-in-Ocean-Remote-Sensing-and-Water-Cycle
and you can send an email for details to nreul@ifremer.fr
The international Earth-observing mission Aquarius/SAC-D launched in 2011 to study the salinity of the ocean surface ended June 8 when an essential part of the power and attitude control system for the SAC-D spacecraft, which carries NASA's Aquarius instrument, stopped operating. The Aquarius instrument successfully achieved its science objectives and completed its primary three-year mission in November 2014. 
See more details on the NASA news:
http://www.nasa.gov/press-release/international-spacecraft-carrying-nasa-s-aquarius-instrument-ends-operations
Figure illustrating the content of the new CATDS/CEC IFREMER Level 4a weekly 1/2° products
4 types of new level 4 "research" products were developed by the CATDS/IFREMER expertise center for salinity (CATDS/CEC-OS SMOS Level 4) and are now accessible for download.
These new Level 4 research products are weekly (7 days) composite at 50 km resolution. The products coverage is May 2010-December 2014.
Level 4a include weekly SMOS SSS biased-corrected at large scale (10°x10°) using monthly in situ OI (ISAS) fields.In addition, these L4a products also include an ensemble of geophysical parameters derived from well-acknowledged products in the scientific communities that are useful for synergistic science applications using SMOS data. These include Sea Surface Temperature (ECMWF), surface currents (OSCAR), rain (TRMM & CMORPH), evaporation (OAFLUX), surface wind stresses (ASCAT), mixed-layer depth from In situ OI(APDRC), Surface salinity from in situ OI (ISAS) and salinity at the base of the mixed-layer depth estimated also from In Situ OI.
-Level 4 a synergistic products:
These products include key geophysical variables to analyse the salinity budget in the upper ocean mixed layer. These include:
-SSS from SMOS & in situ OI (ISAS),
-SST from ECMWF,
-wind speed modulus (ECMWF)
-wind stress components (ASCAT),
-ocean surface current components (OSCAR),
-Evaporation (OAFLUX),
-Precipitation (TRMM3B42 & CMORPH),
-Mixed Layer Depth (In situ OI),
-Salinity at the base of the mixed-layer
These fields are averaged or cummulated in time -or interpolated- over the week of the SMOS L4a SSS and gridded at the same 1/2° spatial resolution.
In addition we include the following thematic datasets: 
L4aSSS In situ Match-up products
Quality controlled surface salinity and temperature measurements from Argo floats, ship TSG, surface drifters, Tropical Moorings and sea seals data provided by the Coriolis, GOSUD, SAMOS and LOCEAN  data centers are collected weekly over each of the L4 composite product period and co-locatized with SMOS L4a SSS products.
 Supplementary data are provided with the in situ match-up database such as vertical profiles of S and T if available, co-localized ASCAT and TRMM3B42 data, etc..
A match-up database file per in situ sensor type is provided for each week of the L4a products.
L4b density products
L4b density products are satellite surface density fields. These surface density fields are so-called  "CATDS/CECOS Ifremer SMOS Level 4c research products" and are weekly composite products of surface density at a spatial resolution of 0.50° x 0.50° deduced from the L4aSSS data and ECMWF SST data. In addition,  the products include:
-mean sea level anomalies from AVISO
-OSCAR currents components
-Wind stress components from ASCAT
L4c anomaly products
L4c products are Anomaly fields. These surface salinity anomaly fields are so-called  "CECI-OS Ifremer SMOS Level 4c SSSA research products" and are weekly composite products at a spatial resolution of 0.50° x 0.50° deduced from the L4aSSS data. The anomalies are evaluated by removing an annual-averaged reference weekly composite field evaluated by averaging the SMOS L4aSSS data over 5 years (2010 to 2014).
weekly anomalies for various thematic fields are also included such as:
-ECMWF sst anomalies
-Cummulated Evaporation anomalies from OAFlux
-Cummulated Precipitaions anomalies from TRMM3B42
-Cummulated Precipitation anomalies from CMORPH
-Mixed layer depth anomalies from APDRC
-Wind stress components anomalies from ASCAT
-Anomalies of the Salinity at the base of the Mixed Layer
-OSCAR currents components anoamlies
-ISAS temporally interpolated monthly SSS & SST fields anomalies
-surface density anaomalies
-MSLA
Data Access:
The data and associated documentation can be accessed through the catds ftp portal by sending a request for access by  email to support@catds.fr
Towards a better estimation of surface currents using satellite Sea Surface Salinity data
Sea Surface Salinity from SMOS (color) in the Gulf Stream region superimposed with surface currents deduced from altimeters (Reul et al., 2014).
Sea surface Height (SSH)  data from altimeters are key observations to reveal the ocean variability at large spatial scales (>100-200 kms). Currently orbiting altimeters do not provide the ocean variability at the smaller so-called meso-scales (from 50 to 200 km) and sub-mesoscales  (< 20 km). Recent theoretical, numerical and experimental studies (e.g. Earth Simulator simulations at very high resolution) have however revealed  that  the ocean surface dynamic in these ranges of horizontal scales is no more characteristics of bi-dimensional turbulence, so that the dynamic at smaller scale cannot be directly inferred from the large scale ones, e.g., through direct energy cascade.
SSH can allow a better constraint of the estimation of the surface density field to help assess in more detail the characteristics of correlation between these fields. As proposed in several recent papers (Lapeyre and Klein, 2006; Isern-Fontanet et al., 2008; LaCasce, J. H., 2012) subsurface velocity and density fields can be extrapolated from sea surface density and SSH via the Surface Quasi-Geostrophic (SQG) formalism. Such method was shown to be particularly successful in energetic regions like the Gulf Stream extension (Wang et al., 2013).
Lacking regular sea surface salinity (SSS) field mapping capability at sufficient spatial resolution, these previous works all assumed that temperature dominates the surface density variations and generally used a constant SSS value. SQG methods implicitly assume the surface density and interior potential vorticity (PV) are correlated. In fact, the two fields are often quite different. Were they perfectly correlated (or anti-correlated), the sea surface height
would resemble the surface density. But satellite SSH and SST anomalies are found to be not always coincident (e.g. Wang, 2013). While there are regions where SST and SSH anomalies are correlated, there are others where they are not. Surface heating/cooling can thus modify the surface signature of near-surface density anomalies (their strength and lateral structures) making them different from surface pressure gradient that is reflected in SSH variability. Moreover, interior PV can be non-zero due to baroclinic instabilities that affect surface pressure without changing the surface density. Finally, in presence of strong horizontal gradients of salinity, surface density is not always dominated by temperature.
            The combination of the new SMOS and Aquarius satellite SSS with SST and SSH data provide a first opportunity to estimate the synoptic surface density fields on mesoscales and to further assess the level of correlation between the latter and the SSH fields. The post-doc candidate will analyse such correlation in several key dynamical areas of the world ocean.
Key words: surface currents, sea surface salinity, SMOS, density, altimetry, temperature
Ifremer offers post-doctoral positions to young French or foreign scientists who have completed their PhD. and are motivated by development and innovation in various fields of Marine Sciences : technology and ecotechnology, aquaculture, fisheries, environment, risks analysis, physics of oceans, etc.
Postdoctoral positions are contracted for a duration of 12 months, possibly renewable for a non-renewable 6-month period.
Interested applicants should send :
A handwritten letter including the specific skills and competence for the particular postdoctoral position you are interested in.

A detailed curriculum vitae.

A summary of work previously done, mentioning the date of submission of the thesis,

A list of publications and communications / symposia.

Two letters of recommendation.
These documents should be mailed or e-mailed to the Scientist Contact nreul@ifremer.fr
The deadline for applications is september 10, 2015.
Complementary information can be obtained through exchanges with the Scientist Contact at ifremer.
 The criteria for selecting candidates are the following :
The Curriculum Vitae of the nominee must be consistent with the proposal regarding the post-doctoral position.

The candidate must be under 35 years old at December 31, 2014.

The candidate has not previously performed post-doctoral research at Ifremer.

The candidate has spent a majority of his (her) doctoral position out of Ifremer.
The list of subjects of the call for post-doctoral candidates can be downloaded here :
Postdoctoral positions will begin from the 1st of November, 2015.
The candidate will work in the Ifremer Mediterannean Center located in La Seyne-sur-Mer