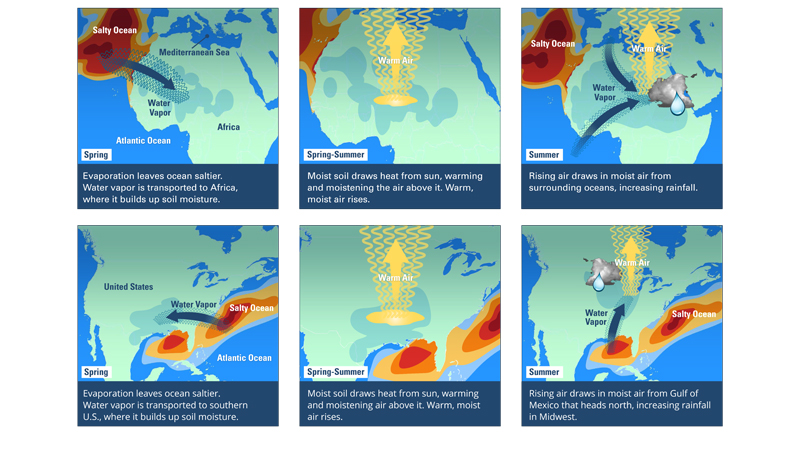 Top: Winds evaporate water from the subtropical North Atlantic Ocean, leaving behind high levels of salinity during the spring. The exported moisture makes its way to the African Sahel, where it soaks the arid land and gradually builds up soil moisture over the course of three months. The soil moisture couples with convection in the atmosphere to create a feedback loop that draws in additional moisture from the North Atlantic and Mediterranean. This increases precipitation during the summer African monsoon season. Bottom: In the western North Atlantic, higher springtime salinities are an indicator of enhanced moisture export onto the continental U.S., which converges in the South. This greatly increases soil moisture there, allowing the Sun's energy to evaporate water leading to more atmospheric convection on land. The intensified convection on land draws in more moisture from the Gulf of Mexico and leads to the enhancement of the Great Plains Low Level Jet, which carries moisture to the upper Midwest in summer. (Illustration by Eric Taylor, Woods Hole Oceanographic Institution) - 
Ray Schmitt from WHOI and his colleagues first found evidence of a clear link between higher sea surface salinity levels in the North Atlantic Ocean and increased rainfall on land in the African Sahel—the area between the Sahara Desert and the savannah across Central Africa. The results were published in the May 6, 2016 issue of Science Advances. 
Schmitt and his colleagues also found that high springtime salinity in the western North Atlantic correlates with high summer rainfall in the U.S. Midwest. Those results were published in the May 1, 2016 issue of the Journal of Climate.
- See more at: http://www.whoi.edu/news-release/salty-oceans-rainfall#sthash.UThOHm7P.dpuf